Les Portes du Soleil, also known as The Gateway to the Sun, is the largest skiing destination in the world. It's located in Europe, between Mont Blanc in France and Lake Geneva in Switzerland. If you want to experience the majestic Swiss Alps for yourself and relax in gorgeous ski resorts, you should really consider spending one of your winter holidays here.

What Can You Find in Les Portes du Soleil?
You can enjoy around 650 km of marked pistes, 24 mountain areas, 50 peaks, and a gorgeous view of Mont Blanc. All of the individual pistes are connected by cableway and a single ski pass is valid in all 12 resorts.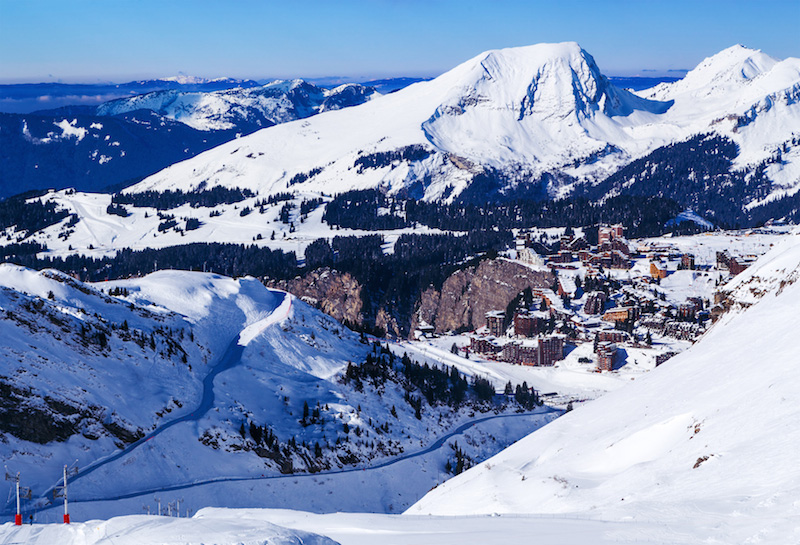 The main skiing circuit mostly runs through the Swiss resorts and only of the French ones. It can be skied in either a clockwise or counterclockwise direction. If you decide to take the counterclockwise route, be ready to face the La Chavanette also known as "Mur Suisse" or the "Swiss Wall". It's located on the border of Switzerland and it's known to be one of the steepest and most dangerous pistes. Of course, if you don't feel like trying your luck, you can always take the cableway down or you can take an alternative route. You can reach La Chavanette from the French Avoriaz Resort, from the Swiss Les Crosets Resort or from the village of Champery.
How to Get There?
You can book a transport from the Geneva Aiport directly to your ski resort. Transports may be booked online and they travel both ways. The transports travel a few times per day and your pay based on how many people are traveling. If you're staying at Avoriaz, the transport will take you to Morzine, specifically to the Prodain Teleferique, a cableway station. You can then take a cable car to Avoriaz.
What About the Ski Resorts?
There are 12 ski resorts in Les Portes du Soleil, 5 in Switzerland and 7 in France. Most of the resorts were built in the local villages. Avoriaz, Les Crosets, and Torgon are exemptions, however, because they were constructed artificially.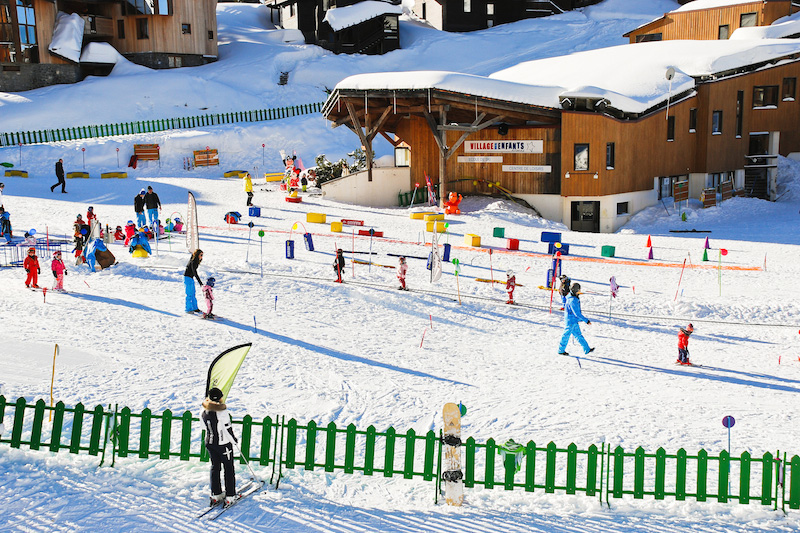 Avoriaz
The Avoriaz Ski Resort is one of the most popular resorts in Les Portes Du Soleil, and with good reason. The skiing village looks much like a winter wonderland. The streets themselves are actually pistes and cars aren't allowed. When you need to reach your accommodations, you can ski or you can take a horse-drawn sleigh. The village has plenty of skiing opportunities, a skiing playground for children, and a rich nightlife. Whether you're a young person looking for fun or a family with children, you'll have plenty to do there.
There are a few popular attractions in Avoriaz. "The Stash" Snowpark is a heaven for snowboarding and freestyle skiing. It's ecological, built from all natural materials and offers many hours of adrenaline-filled fun. The Annie Famose Children's Village (Le Village des Enfants) is designed to help children learn how to ski and have a lot of fun. The special Softski area is designed for skiing beginners and the ski pass for this area is cheaper than the regular ones.
Morzine
Morzine is the largest resort in Les Portes du Soleil. It's located 950 m above sea level and you can get there easily from Avoriaz and Pleney. Despite the large numbers of skiers and tenths of hotels, bars, and restaurants, the village has kept its rustic charm.
Champery
Champery is a Swiss skiing resort, located approximately an hour and a half from Geneva. It used to be one of the first resorts in Les Portes du Soleil. It's connected by cableway to the Planachaux mountain which is suitable for experienced skiers. Skiers may also choose the piste of Grand Paradis.